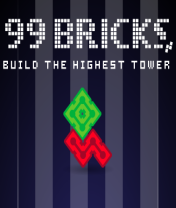 Description
Build the highest tower! With 99 Bricks at your disposal, how high will your tower be?
People who play 99 Bricks also like
Added: 8 years ago

remove the similar designed tiles to clear the board

Added: 7 years ago

Destroy the bricks by clicking same coloured groups with at least 3 bricks. If you destroy a group with at least 15 bricks, then you can get a bomb...