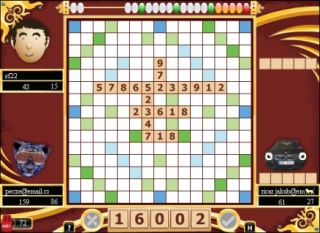 Description
The starting player makes the first move by placing two or more tiles on the board so that one of them lies on the central square. You cannot place these tiles diagonally.
The Player`s turn ends when time runs out for a move, when a move is made, when an empty move is made or when a tile is exchanged. After the turn ends the points are counted and the player refills with more tiles from the bag.
The second player must directly join the placed tiles with his own tiles. The tiles must always make a number combination as per the rules. They can be laid both horizontally and vertically. Every newly placed tile and the tile already lying on the board must together create or be a part of new combination (see Turn 4, 5, 6). The Player gets points for every combination created in the given turn.
The structure created from these combinations is valid only for the actual round. For the following rounds it becomes a simple collection of tiles that can be randomly combined and used in other combinations. Combinations must be readable vertically or horizontally.
Combinations are created by:

adding one to five tiles to those already placed on the board (see Turn 2, 3, 4, 5, 6).
applying a combination across the tiles on the board. This new combination must include one or more tiles already on the board or should be adjoined with one or more tiles already on the board (see Turn 3, 4, 6).
applying a combination parallel to the tiles on the board (see Turn 5, 6).

A Player has three options: place the tiles on the board; change his tiles; skip a turn. He can choose only one of them at a time.
Zero: It isn't possible to start a new combination with zero. Zero cannot be added, subtracted and cannot multiply or divide numbers. Zero cannot be the final result of a combination.
If a zero tile is part of a combination, its newly created addition doesn't have to represent a combination. As such, the player gets no points for it.
If the zero tile is placed between two opposite tiles, a combination concerning both zero and the opposite tiles must be created as a consequence (e.g. 20:5=4).
In all other cases a zero tile is subjected to the same rules as other tiles.
Newly added tiles are red.
Turn 1
Turn 2
Turn 3
square 2 = 4
12 : 4 = 3
6 - 4 = 2,
square root 4 = 2
6 points
10 points
18 points
Turn 4
Turn 5
Turn 6
square 7 = 49, 6 x 4 = 24,
2 square 4
10 : 5 = 2,
2 + 5 = 7
8 - 3 = 5, 2 x 4 = 8,
square root 9 = 3
42 points
22 points
42 points
Finishing the Game
The game ends when the Players tile bag is empty and one of the players uses the last tile.
A player sends an empty turn three times in a row (failing to play within the time limit for a move also counts as an empty turn). Assuming there remain at least two active players then the player becomes a spectator only and must wait until the game ends for the final evaluation.
Points
The number shown on each tile corresponds to their actual point value.
Final number of points is a total of point values of all tiles used in one turn. A tile that becomes a part of more combinations in one turn brings its owner points for each one of them.
Number bonus: Bonus with green lining doubles the tile's value and bonus with dark green lining triples it.
Operating bonus: This bonus multiplies the number of points gained by a total of all tiles used in the combination but only when one of the tiles is lying on a bonus square. Bonus with blue lining doubles in value and bonus with dark blue lining triples the value of the combination.
Bonus is valid only for the given turn (when a tile is placed on it).
The player who ends the game gets extra points. These points are a total of all tiles remaining with the other players when the game ends. These players have subtracted their individual remaining tiles from their final number of points.
The Player with the highest total number of points at the end wins.
Abaku (Mathematicus) is recommended by the Union of Czech Mathematicians and Physicists (JČMF).
Videos
People who play Abaku also like
On Words

-

284

Players online

Added: 3 years ago

An action-packed word game that checks both your active vocabulary and spelling speed. Create more words than your opponent.

Mau Mau

-

155

Players online

Added: 11 years ago

Popular version of the classic UNO. Get rid of your cards first to win the game.

Added: 6 years ago

Build up your reputation as a famous pool player! Play for Pool Coins against top pool players from all around the world.