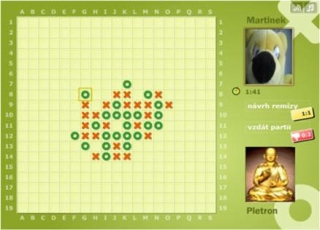 Description
The game is played on a square board. Each player has one symbol assigned - a circle or a cross. The players take turns to place their assigned symbol on a position on the board. The goal of the game is to make a horizontal, a vertical or an oblique pentad of the same symbols. A pentad is simply 5 symbols in a row. The pentad must not be interrupted by opponent's symbol. Whoever makes the pentad first is the winner.
Controls
The game is controlled with the mouse. To place your symbol click the left mouse button in the desired location.
People who play Gomoku also like
Mau Mau

-

170

Players online

Added: 11 years ago

Popular version of the classic UNO. Get rid of your cards first to win the game.

Checkers

-

29

Players online

Added: 11 years ago

Also known as Draughts this is a simple, fast game that remains a favourite board game for many happy players.

Added: 6 years ago

Build up your reputation as a famous pool player! Play for Pool Coins against top pool players from all around the world.