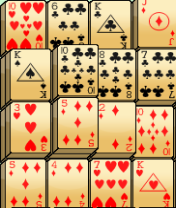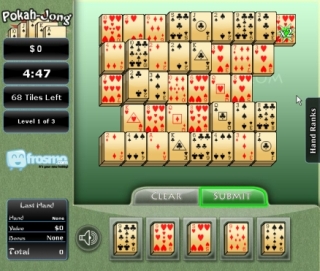 Description
A cross between Poker and MahJong, the object of PokahJong is to create the best poker hand possible using the available tiles on the game board. Typical 'poker hands' add points to your score. The game ends when either you successfully clear 3 game boards or the time limit runs out.
Click legal tiles to move them from the game board to your hand. Once you have a set of 5 cards (4 cards from the board + the 1 random card given to you) click the submit button. The stronger your hand, the more points you'll receive. Keep an eye out for bonus tiles which multiply your hand score by 2 (and they stack). Try and clear all 3 boards and grab the hi-score before time runs out.
Controls
left mouse - fire
mouse - movement
People who play PokahJong also like
Added: 7 years ago

To build cards of descending suit sequence from King to Ace.

Added: 7 years ago

Help Pharaoh build the spectacular pyramids of Ancient Egypt in this atmospheric pyramid solitaire game.

Mau Mau

-

104

Players online

Added: 11 years ago

Popular version of the classic UNO. Get rid of your cards first to win the game.