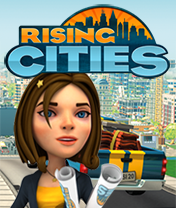 Popis
RISING CITIES – Your metropolis is waiting to be built!
Welcome to Rising Cities, your brand new home. Rise to the ranks of international mayor star. Show your strategic and managerial ingenuity by implementing tactical planning measures, allocating materials shrewdly and maintaining a keen eye for the well-being of your populace.
Create healthy living spaces for your residents, collect rent and invest in industry, power generation plants, transportation systems and a plethora of additional constructions essential for a flourishing metropolis. Just like a real city, your online metropolis requires a vast amount of resources and energy.
Develop stable industry by producing a broad portfolio of goods to use to expand your city's borders or engage in trade with other mayors.
The residents of Rising Cities demand more than just steel and concrete in the place they call home. Stay abreast of all the needs of your residents to gain both favor and finance. Start your mayoral journey to the top of the civic charts today. Your city needs you!
Video ukážky
Tým čo sa páči Rising Cities, sa páči tiež