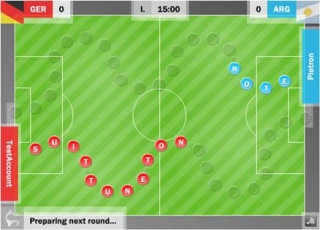 Description
The goal of the game is to create as many valid nouns as possible from the stack of 11 letters and, in doing so,to score more goals than your opponent in the 6 rounds. If the match is tied at the end then a further round follows decided by golden goal.
How to play
Words are created by clicking on the letters in the stack. Clicking on an already selected letter will send it back to the stack. When you click on the "Send" button (just above and right of the stack) the word will move to the list of created words in the upper left panel. When you click on the "Clear" button the word will be canceled and remaining letters will move to the stack. It is possible to show the playing area in the foreground by clicking on it to see the current state of the round - the path to the goal. When you click again the playing area will be hidden.
Both players play concurrently. Each player has 90 seconds in a round to create as many nouns as possible from the 11 letters in the shared stack (letters may be used more than once). Nouns that are not in the game dictionary will turn grey and appear at the bottom of the upper left panel (they won't count).
Scoring at the end of the round
After every round the words of both players are compared and identical words are discounted. The remaining words are spread across the playing area (football pitch). Every letter that goes beyond the 20 fixed spaces and across the goal line on the playing area results in a goal being scored. If both players pass the goal line then the player with the most valid letters wins.
Red and Yellow cards
A player is yellow-carded when their longest valid word is shorter than the opponent's longest valid word. A player is red-carded when their opponent used all the letters in the stack. A red card means that in the next round the player's last letter in the stack will become unavailable.
People who play Word Soccer also like
On Words

-

176

Players online

Added: 3 years ago

An action-packed word game that checks both your active vocabulary and spelling speed. Create more words than your opponent.

Mau Mau

-

108

Players online

Added: 11 years ago

Popular version of the classic UNO. Get rid of your cards first to win the game.

Climbers

-

1

Players online

Added: 9 years ago

Use all your brain power to reach the summit! The Geewa quiz game set in an alpine mountain scene.